We are geriatric care managers and psychotherapists located in Bethesda, Maryland. Our clients are people who feel a strong sense of responsibility to parents  who can no longer function independently. They are determined to keep their parents safe and as high-functioning as possible.
While our clients are committed to helping their parents, they also want to retain the joys and routines of their own lives. They rely on us to help them succeed at the difficult, emotion-laden balancing act they face.
Aging Network Services began in 1982 when providing this kind of support was a new idea. We are pioneers in the field, often quoted in the press, interviewed and sought out as educators.
Barbara Kane, Director, and Linda Hill, Associate Director, lead a practice entirely composed of a staff of geriatric social workers and psychotherapists who hold master degrees. We each work with only a small number of families, remaining accessible in what needs to be a highly personal service. Collectively, we have eased the burden of care for thousands of families with elder parents.
Our Books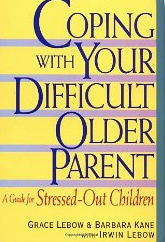 Co-founders Barbara Kane and Grace Lebow (retired 2002)
have written an especially useful self-help book on how to
smooth communications with a challenging parent. This
book, now in its third printing, is filled with practical tips
for handling contentious behaviors and sample dialogues
for some of the most troubling situations (Read More)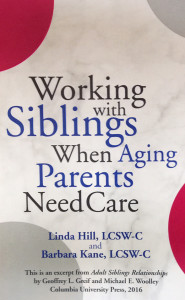 Linda Hill and Barbara Kane have co-authored a chapter
in the book "Adult Sibling Relationships" by Greif and
Woolley, 2016. The chapter addresses how to help siblings
re-engage with one another around the care of their aging
parents. (Read More)